HGTV Message Boards
Advice Appreciated on Paint Colors
Nov 05, 2012, 09:26 PM
RooandDoo
Advice Appreciated on Paint Colors
Hello,
We recently finished putting on new Hardie 5 1/4" siding and Nichiha pre-finished fiber cement "maple" cedar shakes in peak. We painted body of the house Sherwin Williams Quiver Tan and trim Dover White. We like the house color and white trim but are having trouble deciding on final paint color for gable accents and shutters.
To break down our questions:
- which color to paint the gable ends of the peak that support roof (currently black color).
- whether or not to keep the shutters (pic 1). If so, which color do you recommend?
- what color to paint gable vent (match gable ends/shutters or house color?) pic 3
Pics below are of the siding/painting in progress with shutters on/off and with gable vent going from dark brown to tan house color.
Thanks.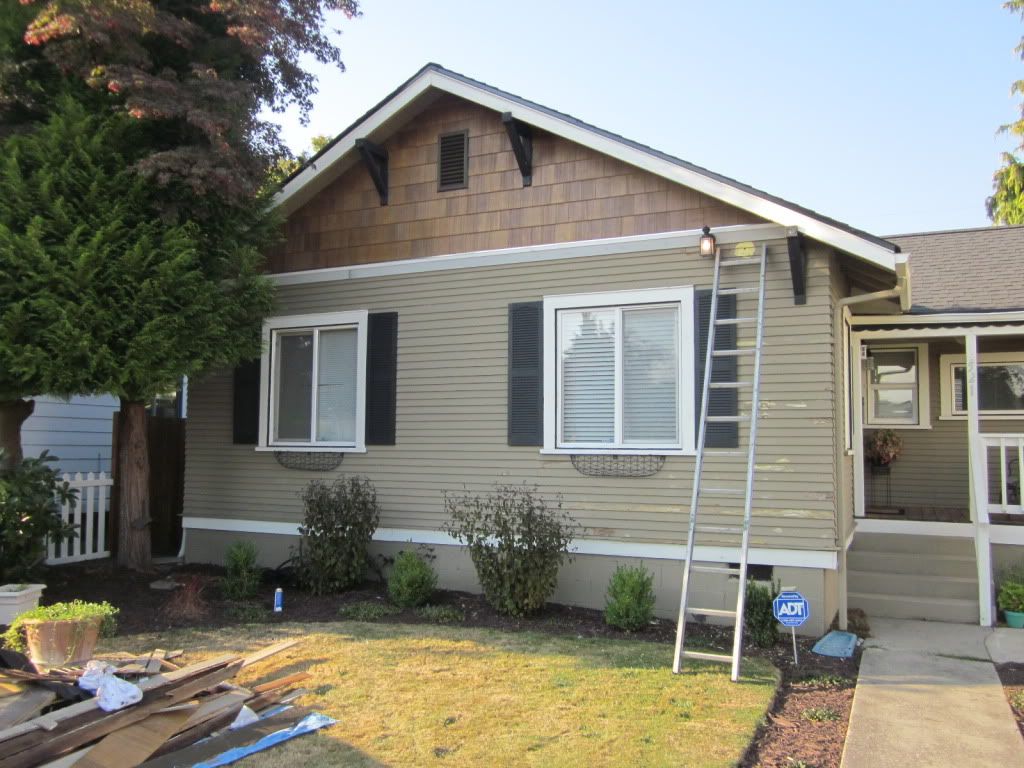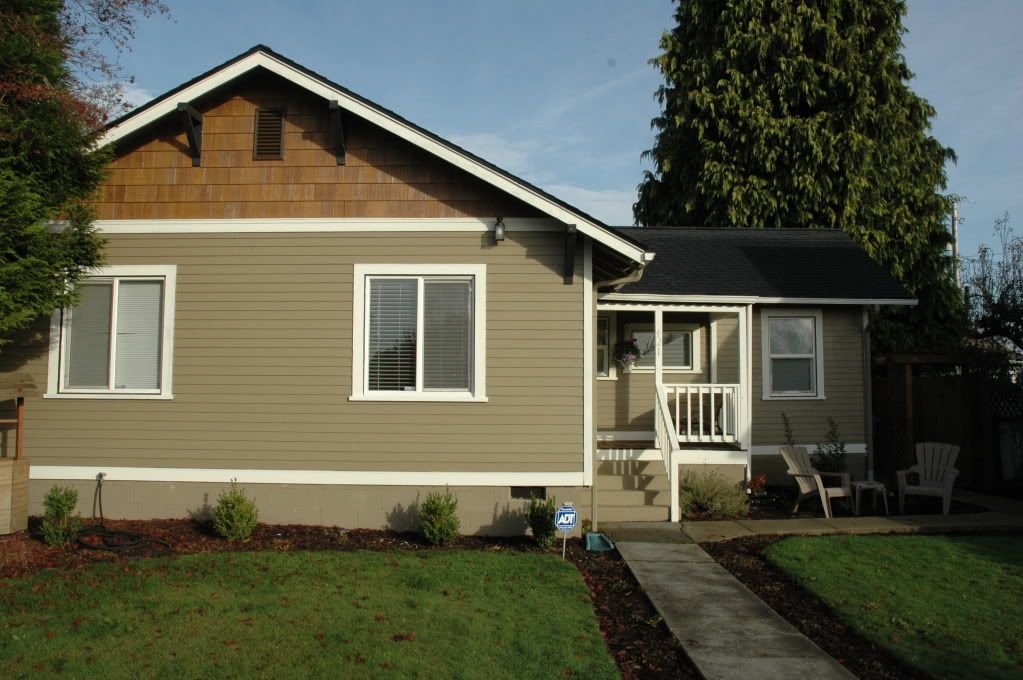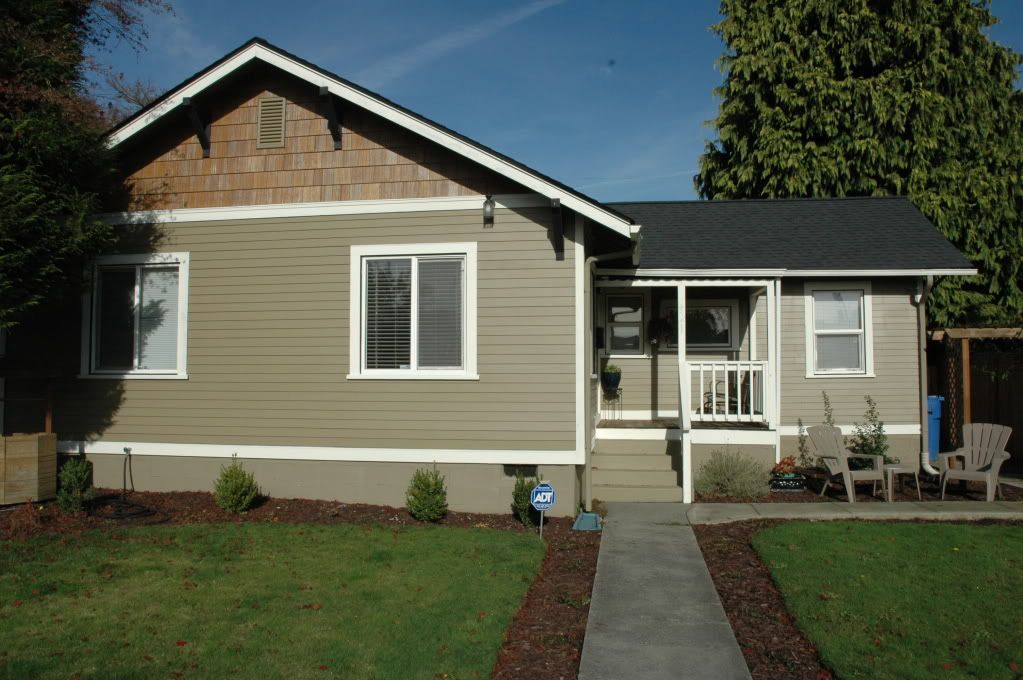 Nov 06, 2012, 09:00 AM
arepo
The roof looks black on my monitor. If so, I'd choose charcoal grey. I happen to be a shutters lover. I feel it warms up the look and gives it more charm, but that's just me.
I even am old fashioned enough to love window boxes as well.
So, charcoal grey is the way I would go.
Lovely new home.
Be ever happy there.
Nov 06, 2012, 09:39 AM
AguaBella
Darling home! Great neutral base with your taupe and white and doesn't sound as if you're selling so almost anything goes WRT color.
Gables - I'd match to the shutters. If you want to stay neutral, you could stay with black or select a darker taupe, a couple of shades up on the SW color wheel. Grey'd work, too or a darker taupe w/grey base. My preference would be possibly a navy or dark blue (depends on light exposure) together with maybe a royal blue front door. Or, if you like, you could go with a forest green plus a bright green front door. (More on front doors below.)
Gable vent - this I'd simply want to disappear or blend in. The house color's o.k. Even better, you could have your paint store person match the shingle color and use a small quantity of that.
Front door - you didn't ask but I'd consider this also. Nice to have a bright tone to direct everyone to it. Doesn't have to match any other color. With your neutrals, you can pretty much go with anything. If you used blue on the shutters/gables, you could go with a bright orange, bright yellow - anything you like. Same for a darker taupe on shutters -
Also, consider the landscaping when selecting your accent color for the shutters and gables. Hoping you're adding more color, BTW. The window boxes will be great if someone has the time to keep them up. Otherwise, I'd pass.
Looks like you have room for at least one large, colorful pot on your porch and possibly a small chair (?).
Great house so enjoy it! Hope something's helpful to you - everything's JMHO.
This message has been edited. Last edited by: AguaBella,
Nov 06, 2012, 01:14 PM
RooandDoo
Thank you so much for your responses. Great ideas.
I particularly love the charcoal grey idea for gables and shutters (if we keep them). Do you happen to have a sample paint color from a paint company you could share?
Dark blue is also a great idea and will look into that.
Sounds like both of you like the shutters on?
Please keep the ideas coming.
Thanks.
Nov 06, 2012, 02:05 PM
conrad
Am I missing something or is there a reason you have not considered solid stain on the cedar shakes to match the rest of the house siding? They will naturally weather to a silver/gray and you will probably end up staining them anyway?
To me that is the only area in the photos that looks "off"?
Nov 06, 2012, 04:12 PM
AguaBella
I actually like the contrast of the shakes so I'd clearcoat/seal them. They're one of the reasons I previously suggested a darker taupe as one option for the shutters. Depending on the shade, you can pull out the brown or grey tones from the shakes. If interested, you might check out samples of the SW 6152 or 6153 bronzes. (You might need 6153 for more contrast.) Yes, I'd go with the shutters.
Very important to check all the options in your light exposure. In particular, if you go dark on the shutters, I'd want to avoid a shade if it appears black in your light. (Your house appears relative small and it's a ranch - with the black roof, it'd be too black/dark for me.)
One other small thing - it doesn't appear that the one visible hanging light does much for you. I'd get a more prominent one to enhance whatever overall style you're going for. Not necessary to exactly match your porch light (assuming you have one) but you'll probably want a larger light for the porch in the same style.
Do the tree(s) need trimming? Wouldn't want it/them leaning towards your home. If another light's hiding behing there, perhaps a center, larger light makes more sense for the front. As it stands now, the light on the right appears a tad lonely or lost.
Another small item - you may want to build a small enclosure for the trash cans to hide that garish teal! BTW, if you have extra shakes (or other surplus material), you could use them for that project. Good idea to always save a few, too.
Best of luck - JMHO, again.
P.S. Just saw a porch chair in one photo. I'd prioritize a large, flowering tree or large pot for that corner and remove the chair if the space is tight. Again, JMHO.
This message has been edited. Last edited by: AguaBella,
Nov 06, 2012, 04:44 PM
RooandDoo
Thanks again for responses.
The shakes are already pre-finished. They are a fiber cement product made by Nichiha. I like the natural look of them. I think the reason they might look a bit "off", is I don't have the right accent color to pull it all together. I think AquaBella's suggestion of the dark taupe/bronze colors would help fix that. Though, there are other possibilities I am sure could work.
AquaBella - thanks for your other suggestions, they are all good. Trees are ready for a trimming. And no, there is only one light on front of house and one on porch. I agree the light does seem a bit lost by itself right now so that could be a future project. Also good thoughts on porch.
Any other thoughts?
Nov 06, 2012, 08:06 PM
arepo
If this color is anything like it looks on the monitor, it is really quite lovely. It has a slight blue tint to the gray. And notice what it goes great with -- your shakes color.
http://www.benjaminmoore.com/e...paint-color/leadgray
This message has been edited. Last edited by: arepo,
Nov 06, 2012, 08:33 PM
RooandDoo
Awesome idea, Arepo! We have some subway tile in our kitchen that is a similar color that we love.
Appreciate it.