HGTV Message Boards
something to look forward to
Dec 30, 2012, 08:23 AM
SSTR (Stop & Smell the Roses)
something to look forward to
Hi everyone! Winter has just begun but spring/summer is a coming, right? Let's get in the mood and post some spring/summer pictures!!
Here is my crape myrtle.
Dec 30, 2012, 02:24 PM
muddyshoes
We need this! This Board is hardly moving!
Not sure I ever shared this picture of the wild violets called Freckles! :>) Just have a few placed WAYYYYY in the back of the garden by the
woods!


"Those that throw mud, lose ground!" :>)
Dec 30, 2012, 02:25 PM
muddyshoes
Love when the forsythia blooms...saw this when out for a drive last Spring.


"Those that throw mud, lose ground!" :>)
Happy New Year gardening friends!! I know I'm not around much but will be home for a few months so expect to see me around here more often. I love crepe myrtle SSTR and those freckles are adorable Muddy!! This is a good one so I must participate. My favorite from last year: Prairie Splendor Coneflower. I look forward to more pics from everyone.
Dec 30, 2012, 11:14 PM
Florida Farm Girl
Oh, I love those little violets!! I've never seen them freckled like that.
These are from the campground where we spent most of the summer this year.
Dec 31, 2012, 08:01 AM
vera ellen
I love this thread already. Your crepe myrtle is pretty. Thanks SSTR.
Muddy, love the house behind those forysthias.
Have never seen freckled violets.....they are adorable. JM, love the coneflowers........and FFG, your spring bed is gorgeous.
I look forward to spring every year because Iris are my favorite spring flower.
ve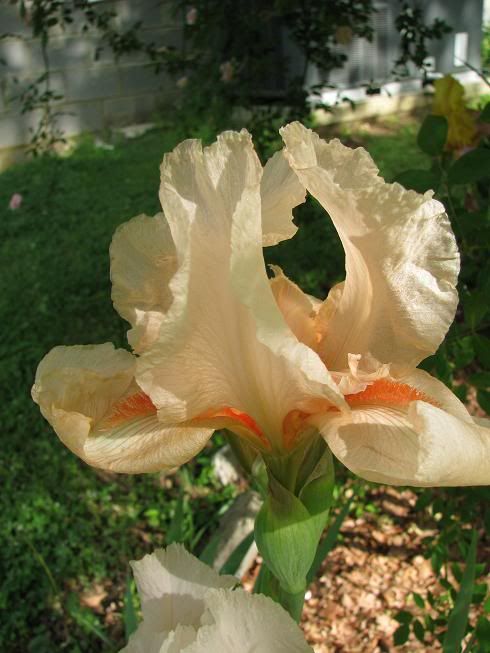 Dec 31, 2012, 11:00 AM
SSTR (Stop & Smell the Roses)
I just want to stick my nose down into that beautiful iris! Love your photos ladies!! Keep 'em coming.
In the spring on the way up to Kansas somewhere in Oklahoma, there's a home that has forsynthias and redbuds in their front yard. I always watch for this burst of color when passing through!
Dec 31, 2012, 12:13 PM
joyluck
Love seeing these colorful pics as outside my windows it's all white and green at this time of year.
This iris is one of my favs altho I don't know it's name as it was from a friend's garden many years ago.
Dec 31, 2012, 02:05 PM
zone9alady
I still haven't had a hard freeze yet. My Angel Trumpets are still blooming and the Kalanchoe are just starting to bloom. I know they will be mush as soon as it freezes.
These Gloxinia are blooming too:
Dec 31, 2012, 03:48 PM
mgt
I love those violets.


~~~~~~~~~~~~
"I've decided to quit my job, drop out of society, and wear live animals as hats."
Dec 31, 2012, 05:44 PM
muddyshoes
I love the glox! Wow special! So jealous! Snowing like mad here.
Mgt...If they spread ? Remind me if you have a place for them in your back 40! LOL I hope to see them in the Spring. One little clump but so different.


"Those that throw mud, lose ground!" :>)
Jan 01, 2013, 03:46 PM
SSTR (Stop & Smell the Roses)
I'll have to wait until June before I can enjoy my Lily of the Niles.
This message has been edited. Last edited by: SSTR (Stop & Smell the Roses),
Jan 01, 2013, 06:43 PM
mgt
Wild violets usually spread like crazy. My yard is full of the purple ones & the white ones with purple throats. Before DH mows for the 1st time in spring, I'm out there picking bouquets of violets. People probably think I'm nuts, but I like 'em. I'd love to find room for the freckled ones in my back 40.


~~~~~~~~~~~~
"I've decided to quit my job, drop out of society, and wear live animals as hats."
Jan 01, 2013, 08:00 PM
jmchab
Will know spring has sprung when these little guys pop up.
Jan 01, 2013, 10:23 PM
KeepYouInStitches
All my pictures are too large and it's too late to resize them tonight. But I think this says spring/summer.
Jan 01, 2013, 10:25 PM
KeepYouInStitches
Found one! How about a full in bloom dogwood?!
Jan 01, 2013, 10:29 PM
KeepYouInStitches
Bluebonnets - yes in my yard.
Jan 01, 2013, 11:00 PM
jvelo
LOVE the pictures! Makes me wish for spring....or a move to someplace where there is no frost!
I'm already missing the flowers blooming around my Japanese lantern...
corydalis, Indian Pinks, Salvia....
Jan 01, 2013, 11:23 PM
Florida Farm Girl
How about some pentas? The butterflies love these things.
Jan 01, 2013, 11:48 PM
aggiegrad
beautiful blooms ladies! & believe it or not there's only 11 weeks till spring! or so the calendar says, I'm hoping it's right this year. sorry, I don't have any pics to add, but, I can't wait till the snow is gone for this year.


cheryl hill
Jan 02, 2013, 11:06 AM
vera ellen
Lovin' all these pictures ladies......keep 'em coming will ya.
Muddy, you too? I pick violet bouquets in the spring......also Johnny Jump Ups......can't wait for this scene again.
ve
This message has been edited. Last edited by: vera ellen,
Jan 02, 2013, 12:59 PM
zone9alady
Wow Sherry, that Dogwood is absolutely beautiful!
Jan 02, 2013, 02:52 PM
SSTR (Stop & Smell the Roses)
It's overcast and dreary out my window, although we did receive 2 3/4" rain the other night which was good. But your photos are a sight for sore eyes ladies!
I agree SSTR, these photos are great. Today was a little sunnier than yesterday here but oh so cold. I see you folks are posting more spring pics - VE and Joy Luck: I LOVE your iris so I'm going to share mine too.
Oh, I missed saying that I love the Hosta Bed Vera Ellen. So lovely!!!!
Jmchab, you and I share more than just the "Jm" with our love for the crocus. Here are some of mine from a few years back.
Jan 02, 2013, 10:37 PM
jvelo
I love iris also, especially these tiny bright ones that appear in spring.
Jan 03, 2013, 10:25 AM
vera ellen
Thank you ladies....Pretty Iris, love them........don't grow crocus.....I'm sure they'd survive here, but it gets so hot so fast, doesn't much seem worth it.....I think they are adorable though.
Just went back and relooked at all the pictures....dogwoods are my favorite tree...that one is gorgeous.....also lily of the nile....it's an annual here, so will just enjoy the pictures. I may have to try some gloxinias....never grown them before! I know I've missed naming some.....still, all are beautiful shots of beautiful gardens.
After nearly a week of gloomy, damp, overcast weather, these pictures sure brighten up a day. Just saw a peep of sunlight outside...YAY.
ve
Jan 03, 2013, 01:00 PM
ga.karen
Great pics ladies! I've enjoyed them all!


"The soil is the source of life, creativity, culture and real independence." David Ben-Gurion
Jan 03, 2013, 04:17 PM
SSTR (Stop & Smell the Roses)
Jm, is that a 2-toned iris or is there a yellow iris behind the one in front???
Jan 03, 2013, 08:40 PM
Toots
hoping this spring is as bountiful as last one was.....
http://imageshack.us/a/img11/558/endamay12002.jpg


"Gardening Keeps Me Growing!"


Jan 04, 2013, 12:36 AM
zone9alady
Great photos everyone!


Whether You Think You Can Or You Think You Can't..... You're Right - Henry Ford
Vera, I'm with you on these dreary days - they're killing me. We're supposed to get some warmer days next week - YAY!!
Toots, Love - Love - Love the hydrangeas!!! Especially the blue color. Nice to see you are still around these boards inspiring others!!!
SSTR, the iris is bi-color. Here's another shot closer up with some Dr. Ruppel clematis in the back.
Jan 05, 2013, 09:12 AM
SSTR (Stop & Smell the Roses)
Love em JM!