HGTV Message Boards
It Was a hot September afternoon..........
Sep 26, 2012, 08:06 AM
vera ellen
It Was a hot September afternoon..........
...and this male cardinal decided a bath was perfect for cooling off.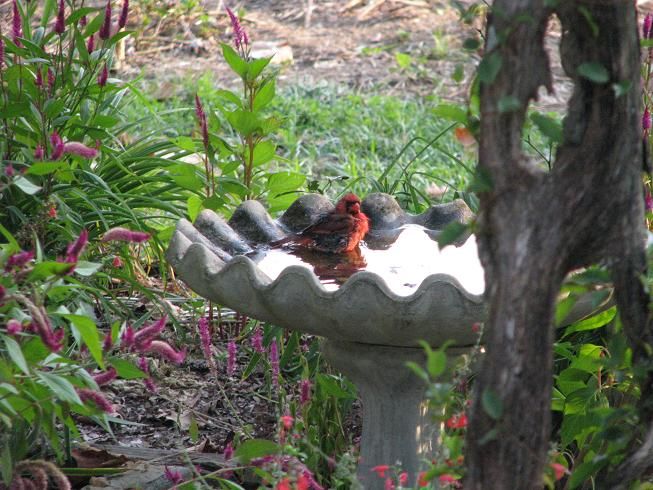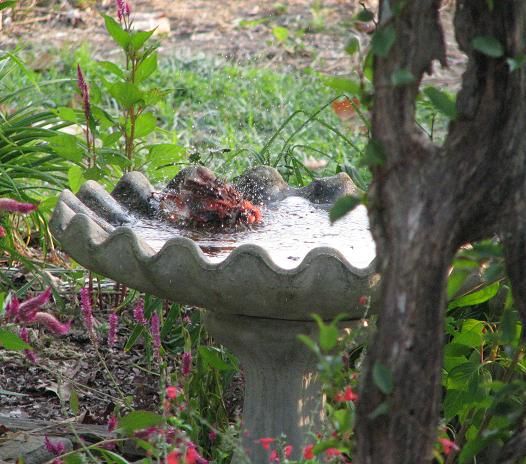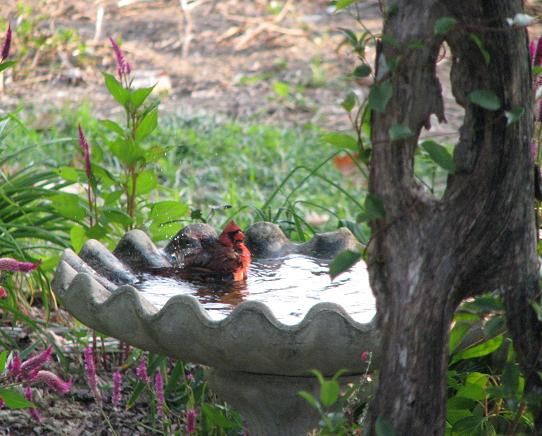 While he was enjoying the cool bath, this female summer tanger flew over to check out the splashing. (FFG, correct me if I'm wrong on the ID). She watched from this nearby tree.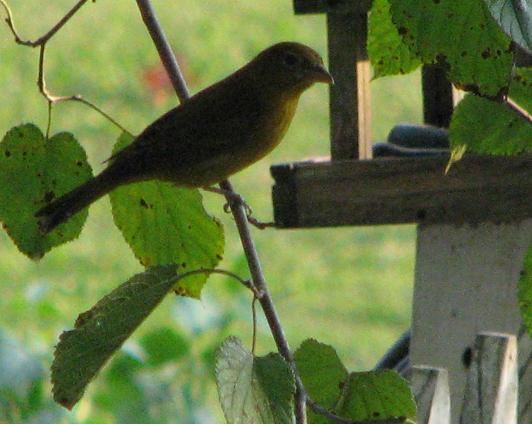 Once the cardinal had finished and flown off, down to the bath she goes.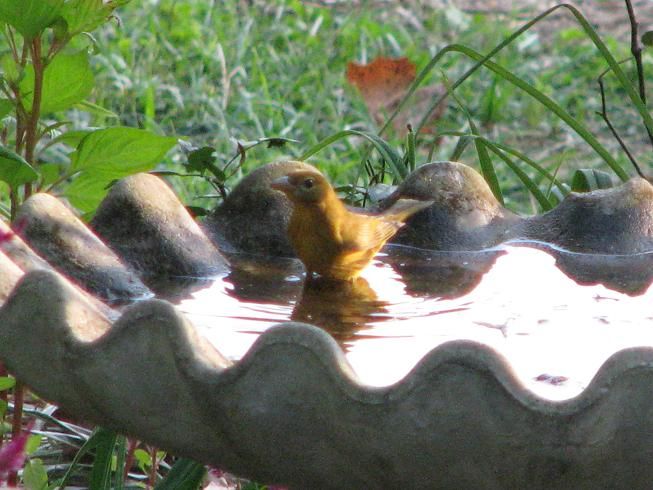 Aha, my turn, this feels good!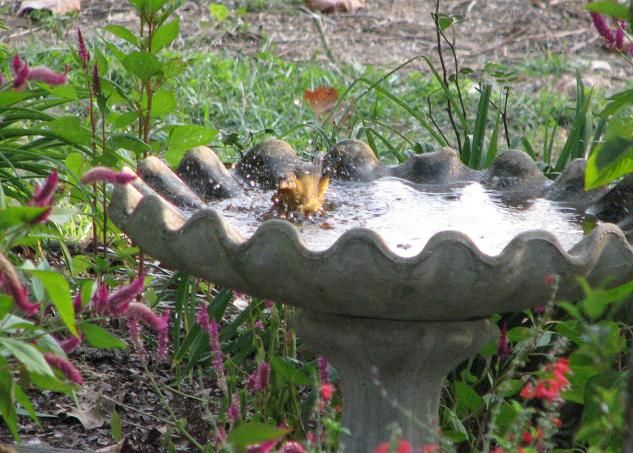 This was so amazing. I rarely catch one bird in the bath, let alone catch one bathing and one awaiting a turn. Hope you enjoyed sharing these private bird moments with me
ve
Sep 26, 2012, 11:44 AM
Florida Farm Girl
I love to watch the birds bathing. I've seen one in the bath and one sitting on the edge waiting his turn.
VE, I think you're right on the female tanager. I love tanagers but seldom see them at my house near the coast. More inland, yes.
Sep 26, 2012, 03:19 PM
bana
almost feels like i'm right there. thanks for sharing.
Sep 26, 2012, 05:26 PM
vera ellen
Because of the placement of the birdbath, I can't see it unless I'm on the front porch. I'm sure I've missed lots of bathing.
Thanks for confirming the Summer Tanger ID for me FFG. We have several of them here. The males are simply beautiful, although I think she's pretty special too.
ve
Sep 26, 2012, 06:37 PM
Wavy
You're getting real good with that camera!!!! Love those pics! My birds rarely bathe in the bird bath. I did catch them about a week ago, but it doesn't happen that often, and never a CARDINAL!!! The other bird was very pretty too. Never saw that bird before!
This message has been edited. Last edited by: Wavy,


SPRING HAS F I N A L L Y SPRUNG!!!!!
Sep 26, 2012, 07:04 PM
Ricearoni
What a treat to see. The most I get to see are starlings, mourning doves, a hummer or 2, and stray seagulls.
Lovely, ve. Thanks for sharing.
Sep 26, 2012, 07:23 PM
mgt
ve, those pics are fun and fantastic.


~~~~~~~~~~~~
"I've decided to quit my job, drop out of society, and wear live animals as hats."
Sep 26, 2012, 07:32 PM
joyluck
Wonderful pictures, VE - they are so clear. I find it very difficult to get good pics of birds in my birdbath. Hope you don't mind me posting one of mine. It's not a good pic as I took it thru the kitchen window, the only way I can 'catch' them. These are Rocky Mountain Bluebirds and a Western Tanager I think. It's a pic from a couple of years ago but the same type of birds were here a few days ago. The 2 breeds often seem to turn up at the same time and sometimes get along in the bath together. Other times there will be only one Bluebird who 'hogs' the bath and won't let any others in. Guess they have personalities too!
Sep 26, 2012, 09:02 PM
silly bird
VE great pics. Joyluck is that a blue jay in the bath too? Good pic. Thanks ladies.
Sep 27, 2012, 07:57 AM
16paws
Great pics! Love to see those birdies! My birdbath got cracked this year and I am having a hard time replacing it. Lots of them are very slick and shiny which isn't good for birds or else some of them are very ugly now, hard to explain but they are square or just not nice looking. Yours is great.
Sep 27, 2012, 10:35 AM
patty louise
I just love these pictures! There is no sweeter sound than hearing a birds wings flap while they are bathing! And no sweeter site!
Sep 27, 2012, 11:37 AM
vera ellen
Thanks girls..........Joyluck - I don't mind at all......in fact, I'm envious that you got a shot with 3 birds. I've never ever caught a bluebird in the bath. Thank you for adding your picture.
Anyone else who has some bathing beauties to share, please do. So glad that y'all have enjoyed the pictures.
ve
Sep 27, 2012, 11:43 AM
bana
wish i could share one.. hard to do as they scatter when i either open the door or come around the corner from the other direction. i may have to sit very still indoors by my kitchen window to catch a photo. love yours.. its such a pretty scene among the garden flowers. same with yours, joyluck.
Sep 27, 2012, 02:42 PM
joyluck
Silly bird, those blue colored birds are Rocky Mountain Bluebirds.
VE, there are actually 5 birds in that pic, 4 in the bath and one on the edge. Those RM Bluebirds must be quite social birds as they often bathe together. They also don't seem to mind the Tanagers in with them altho occasionally there's one Bluebird that won't have others with him. I've sometimes seen 5 all in the water at the same time but it doesn't happen with other species. I love watching them, just wish I could take pics up closer but they won't stay.
Sep 27, 2012, 03:40 PM
ga.karen
Great pics VE!
I only get the tangers when they pass through during migration! But I do usually have at least one pair every year....just can't get pics, they stay too far away from the house.
You were lucky to catch the cardinal...at least in my experience...they are one of the dirtiest birds, rarely take a bath. Blue jays, blue birds & house finches are often in my bird baths and sometimes together...they are the cleanest around here!
Lucky, another great pic!
Nice to see some different birds from the other side of the mountains!


"The soil is the source of life, creativity, culture and real independence." David Ben-Gurion
Sep 28, 2012, 09:36 AM
Beau's Rose
Love the birdie pics. They know how to have FUN!
Now you have done it! I need a birdbath for my garden too.
Sep 28, 2012, 12:43 PM
Florida Farm Girl
This wasn't taken this year, but is from my yard.
I have more, but finding them is a whole other matter.
Sep 28, 2012, 12:48 PM
16paws
Haven't seen my woodpeckers recently, but yours looks so content and ready to dive into the water! Mine come around when I put out tons of peanut butter for them, the crunchy type with lots of peanut pieces in it! You've got a fantastic place for all of the birds to visit.
Sep 28, 2012, 01:52 PM
zone9alady
Wonderful photos! I always stop and watch the birdies taking a bath....I guess I'm a voyeur! LOL!


Whether You Think You Can Or You Think You Can't..... You're Right - Henry Ford
Sep 28, 2012, 02:21 PM
muddyshoes
Great Shots!!!! TFS Love to see who visits!


"Those that throw mud, lose ground!" :>)
Sep 28, 2012, 02:52 PM
muddyshoes
Lookie here!


"Those that throw mud, lose ground!" :>)
Sep 28, 2012, 07:11 PM
owie
Lovely pictures. I have my birdbath by my sewing room window. As I sew I stop and watch the birds bathe. Such a lovely site to behold.
Sep 28, 2012, 07:31 PM
Florida Farm Girl
Owie, that's what I do too. There are double windows in my sewing room and I spend a whole lot of time watching the birds and squirrels in the back yard, rather than sewing. I do love my "window on the world".
Sep 28, 2012, 08:39 PM
ga.karen
Ok Muddy! Just how did you get that pic?


"The soil is the source of life, creativity, culture and real independence." David Ben-Gurion
Sep 29, 2012, 08:44 AM
muddyshoes
Isn't that something?!!


"Those that throw mud, lose ground!" :>)
Sep 29, 2012, 10:30 AM
16paws
Ok Muddy, you have won the scariest bird picture award, that's a hawk, right?
Sep 29, 2012, 10:40 AM
muddyshoes
Hahahaaa You & Karen have been punked! LOL
I have to confess!!! LOL That guy was stuffed & in the Nature Center! LOL I knew I could fool some of you!


"Those that throw mud, lose ground!" :>)
Sep 29, 2012, 10:57 AM
vera ellen
and here I was all ready to say WOW, you are truly a great photographer!!!
Good joke Muddy and it's still a great shot.
ve
Sep 29, 2012, 11:32 AM
muddyshoes
Couldn't resist! ~~Hahaaa
It looked so real~ Wow! The minute I saw it I said ~~ Ah I think I can fool my garden buds with this!


"Those that throw mud, lose ground!" :>)
Sep 29, 2012, 01:36 PM
jmchab
Well, Muddy might have gotten a pic like that but one (sharp-shinned) did come crashing into the kitchen window that sort of looked like that- scared the pants off me as I was sitting next to window as he hit and fell to the deck. Took him a bit to shake it off and fly away.
Sep 30, 2012, 04:40 PM
muddyshoes
bump


"Those that throw mud, lose ground!" :>)
Sep 30, 2012, 05:09 PM
Pebbles03b
Great bird pics vera;I need to get a birdbath. Ever si ce we cut our two trees down in the backyard we hardly see any birds):
Oct 01, 2012, 01:18 PM
muddyshoes
They need quick safe place to hide when a hawk or cat comes around. I see my little sparrows fly into the bushes when that happens!


"Those that throw mud, lose ground!" :>)
Oct 05, 2012, 12:55 PM
thebrownthumb
Love the bird bath shots everyone!!!Although now I feel like a peeping tom.LOL
Muddy...only you would try and get away with that scarey shot. LOL


There are no gardening mistakes, only experiments. Janet Kilburn Phillips

Oct 05, 2012, 02:21 PM
muddyshoes
He looked so life like~~Nice to get a good look up close & he's stuffed!
We need some laughs on here~~~just like the old days!


"Those that throw mud, lose ground!" :>)
Oct 07, 2012, 06:42 PM
SSTR (Stop & Smell the Roses)
Great pix one and all ladies!! And I was gonna say Muddyshoes was lucky she didn't have her eyes poked out taking that photo! lol