HGTV Message Boards
Speaking of bugs
Sep 30, 2012, 02:11 PM
zone9alady
Speaking of bugs
Usually I see this gal running around in the sand and as soon as I try to get a pic she runs really fast in a little hole to safety.
Well this time she wandered into the garage where DH was working. I said "WATCH OUT - COW KILLER" and he jumped! LOL!
I got a SS bowl and put a dime in for size comparison. This is actually a Red Velvet Ant or "cow killer"
Scientific Name: Dasymutilla occidentalis
It's not an ant at all but a female wasp without wings. The male has wings but does not sting.
Being called a "cow killer" I don't want to find out what her sting feels like.
I let her go in a different part of the yard.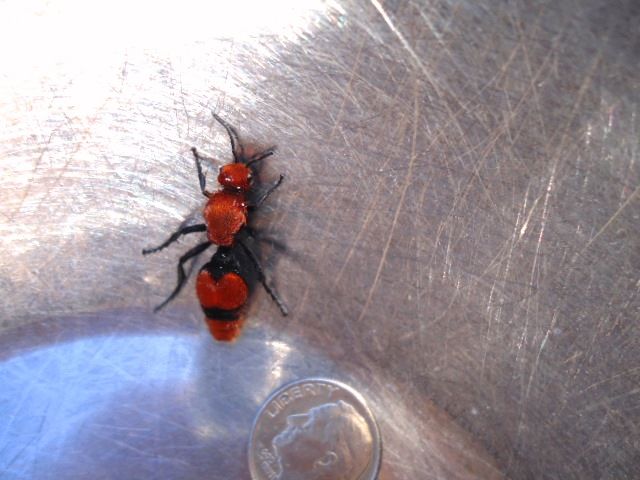 Whether You Think You Can Or You Think You Can't..... You're Right - Henry Ford
Sep 30, 2012, 02:35 PM
ga.karen
We have a few of those around too! My DH says the sting HURTS! He messed with them when he was a kid & learned his lesson!


"The soil is the source of life, creativity, culture and real independence." David Ben-Gurion
Oct 01, 2012, 07:43 AM
KimmSr
The Velvent Ant, or "Cow Killer Wasp" is not a pest and will not harm anyopne unless you happen to pick one up or step on it barefoot.
http://lancaster.unl.edu/pest/...rces/cowkiller.shtml


The sign of a good gardener is not a green thumb, it is brown knees.
Oct 01, 2012, 11:28 AM
zone9alady
That's why I let it go.
Just hope my dogs don't catch one.
Oct 01, 2012, 01:21 PM
vera ellen
So that's what it's called. We get a few here too...I thought mine had more black stripes on the tail section. Don't think I saw one at all this year........that's a good thing!
ve
Oct 01, 2012, 01:27 PM
bana
isn't nature beautiful? that is one gorgeous 'ant'. i had to laugh.. could just imagine your DH jumping when you hollered.
Oct 01, 2012, 01:41 PM
zone9alady
I only see them one or twice a year so I was surprised to see her in the garage. She is beautiful. It's funny, if you try to stop or catch her she makes a squeaky noise. I guess it's a warning before she stings you.