HGTV Message Boards
more photos
Sep 28, 2012, 03:48 PM
zone9alady
more photos
Went for a walk yesterday out back. It's starting to cool down a little, not much but at least it's not in the 80's at 6pm.
Came across a few wildflowers, don't know what their called but they were interesting: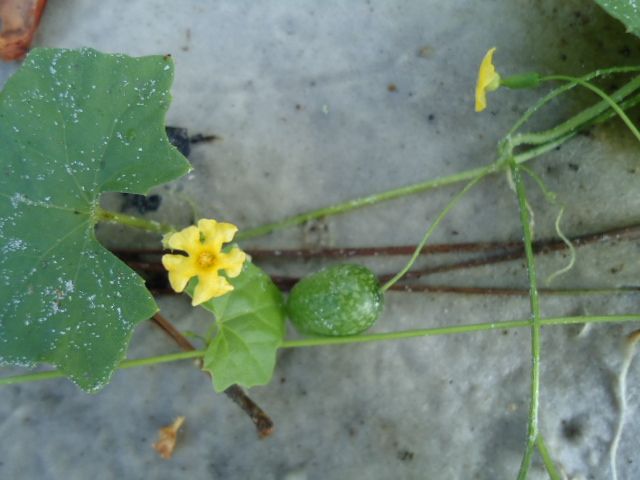 My Cassia is finally blooming: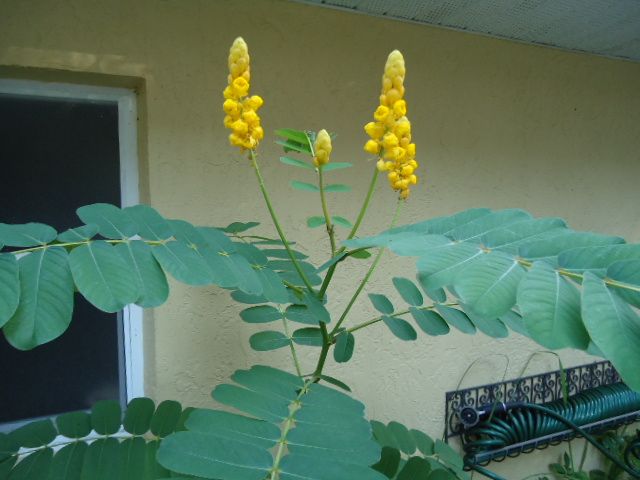 Blanketflower closeup: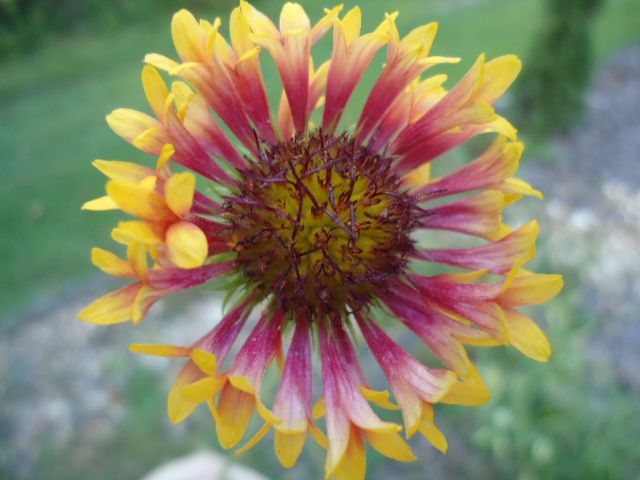 Chaste Tree (LeCompte Blue)
This is a mulch pile area out back where I would throw the yard waste...with all the rain the EE's took root.
American BeautyBerry
The berries stay on all winter after the leaves fall off. The turkeys love them.
My dogs were going crazy yesterday, had to convince them that these were the good guys. LOL!
Sep 28, 2012, 03:58 PM
silly bird
Oh my what great pics. Thanks for taking us on your walk.
Sep 28, 2012, 08:51 PM
ga.karen
Can I come visit? Love all of it! The wild flowers certainly are interesting!
I have some beauty berries too, but mine drop off they don't hold to the stem.
I just discovered some across the road about 8' tall and LOADED with berries.
Your Cassia looks like a giant version of a weed we have here...I'm forever pulling them!
Great pics lady!!!


"The soil is the source of life, creativity, culture and real independence." David Ben-Gurion
Sep 29, 2012, 08:26 AM
Toots
found the triangular one...
http://www.spacecoastwildflowe...0_07_01_archive.html
Tall elephantsfoot (Elephantopus elatus, Asteraceae)
Native
http://www.spacecoastwildflowe..._07_01_archive.htmlI
love that one!!
is that the second bloom on your Chaste tree?.. sure is big and full!!


"Gardening Keeps Me Growing!"


Sep 29, 2012, 08:48 AM
muddyshoes
Such wonderful stuff lady!!!! Love to see all the different stuff you can grow down there but could never stand the heat down there. What do the overall gardens look like? You sure have some lovely bright colors! Dreamy!


"Those that throw mud, lose ground!" :>)
Sep 29, 2012, 09:12 AM
Wavy
Very nice pics, I love Elephant Ears, but you need a lot of space to grow them effectively! Those wild turkeys just crack me up. My dear beloved aunts used to live in Fla. and I've been there many, many times. Have never seen a wild turkey. My aunts had wild ducks on their property to their dismay!
Are the turkeys there year round? I would probably do a "head count" weekly to see if the same ones come all the time. How many do you usually have hanging around? What do they eat?Do they reproduce every year and have more babies? Aren't they scared to hang around, close to Thanksgiving???
This message has been edited. Last edited by: Wavy,


SPRING HAS F I N A L L Y SPRUNG!!!!!
Sep 29, 2012, 11:13 AM
zone9alady
Thanks ladies! Sure Karen you can come for a visit, it's cleanup time for me now that the heat is subsiding. hehe. I make a great mojito too!
Thanks Toots, Tall Elephants Foot...how do they come up with these names? Yes that is the second bloom on the Chaste tree. I have yet to cut the old seedheads off.
Muddy the overall gardens are overgrown and weedy. Haven't been out there all summer. After I get everything tidy then I'll be taking wide angle shots again! LOL!
Wavy we do have turkeys year around. I saw them the first year we moved here 9 years ago. It's usually a rafter of 27 or more especially right after they have babies.
We have the wild beautyberries, chickasaw plums, poke salad, sparkleberries and other wild seeds that they eat along with the worms, and other bugs they scratch up.
Mating season is neat to watch, the big Toms get all puffy and beautiful showing off like a peacock. I can hear the mating calls from inside the house. It's funny...they always seem to show up near Thanksgiving...they have no fear! LOL!
This message has been edited. Last edited by: zone9alady,
Sep 29, 2012, 06:45 PM
16paws
What pretty pictures. We can't grow most of the plants that do so well in your area. I have a beautybush but I didn't know that the turkeys like them. Post more of your gardens, I love to see all the different plants.
Sep 30, 2012, 08:36 AM
vera ellen
Those are gorgeous pictures. Enjoyed the walk...such a wide array of wild flowers.
So you enjoy the wild turkeys huh! Here they are a nuisance, but they are fun to watch. Remember my two females, Thelma & Louise. They still show up and scratch around the birdfeeders. I've never seen them near the beautyberry bush though.
Can't wait for the wide length shots.
ve
Sep 30, 2012, 10:28 AM
zone9alady
quote:

Originally posted by vera ellen:
......So you enjoy the wild turkeys huh! Here they are a nuisance.......
I went out at 11pm last night to turn off the wall fountain, came back in and both dogs kept smelling around my slippers. I thought I had let a frog in when I opened the door. After I walked all the way to the other side of the house and went in the bathroom where there is a light colored rug I saw what the dogs were sniffing...turkey doo-doo!
Sep 30, 2012, 02:51 PM
ga.karen
They came to get a drink!
I'll wait until you get it all cleaned up before I come! Kidding! I've got plenty to do now too!
Turkey hunting season doesn't start until March up here. It might be the same down there too. It starts then due to reproduction cycles??? Not sure.


"The soil is the source of life, creativity, culture and real independence." David Ben-Gurion