HGTV Message Boards
Need Cheap Ideas for our blah kitchen
Oct 20, 2012, 08:06 PM
nick993
Need Cheap Ideas for our blah kitchen
Hello, first post on the HGTV forum. Looking for some help for our boring kitchen. We've been in the house for a year and we still can't afford major improvements yet, but still would like to do diy improvements. Any Ideas?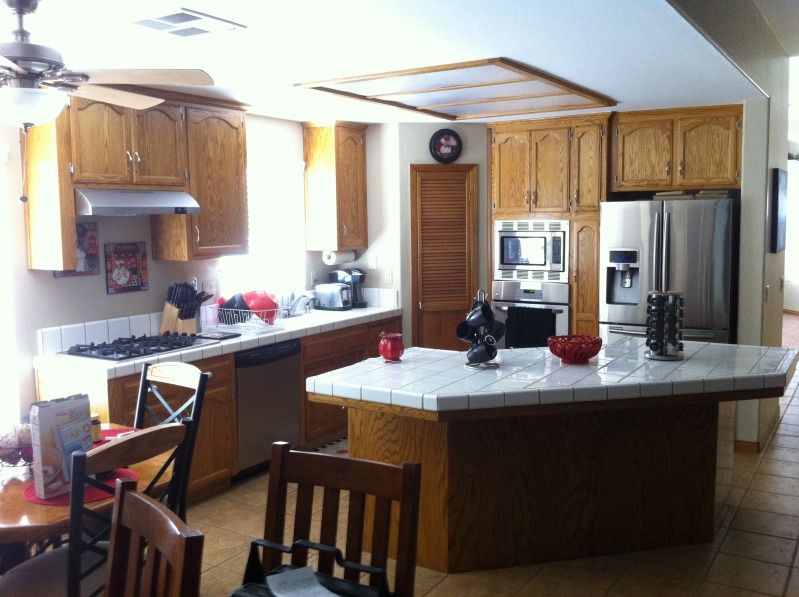 Oct 20, 2012, 09:30 PM
indycatCarol
I like your pops of red. Can you carry it a bit further and maybe paint the walls red? Or atleast maybe one accent wall red? If you don't want to paint the walls, maybe some red towels and throw rugs. Looks like the rug in front of the sink has a little red. Maybe even cover the kitchen chair cushions in red.
Oct 21, 2012, 07:50 AM
metwo
Paint!! Any color. And paint the frame of your flor. light fixture to match the ceiling paint.
Also group the stuff on your island into a cohesive arrangement at one end, usually with 3 items or just one. If you want something over your stove change it to 1 large item centered instead of the 2 staggered ones.
Just some suggestions to consider.
Oct 21, 2012, 09:45 AM
BearCat49
Overall, even though your kitchen itself is fairly light, the combined space feels dark, to me.
To get started, given your lack of counter space, I would remove absolutely everything from the counters and other surfaces, including the dish drainer, books over fridge, paper towels, appliances, all the accessories, etc.
Then, only bring back what you truly need on a daily basis. For a touch of color, you might place your fruit bowl on the outer corner of the island. (Your bowl looks a little small, however.) If you need the toaster daily, bring that back - a colorful cover would spice it up.
WRT color, I'd select a fabric to use for the kitchen plus family room. I would definitely use something with a light background plus your accent color or colors and only a small touch of the brown. You might use that fabric for a roman shade over the window plus a couple of throw pillows for the sectional.
Next, I would add a backsplash. It'd be inexpensive if you used either white subway tile or porcelain plus a couple of rows in your accent colors. (Colorful porcelain in your accent colors is another inexpensive option.) If you're ambitious, you could also do a design of some sort over the cooktop. (Your fabric will come in handy to match the colors.) You could consider more expensive tile b/c of the very small area to cover.
You mentioned diy projects. After the backsplash, my next priority would be your fireplace. Between it, the brown sectional, brown table, chairs, drapery, etc., everything feels dark. I can think of multiple ways to both update it and lighten it up from tile to slate or stone. Let us know, if you're interested in hearing more options. If nothing else, how about painting it white?
Additional projects for me would be eliminating both the lightbox in the kitchen and the ceiling fan. Updating the lighting will go miles towards updating your space. BTW, I don't suggest ceiling fans over eating areas (dust). I'm sure you can use it in another room.
I would seriously consider having those chairs professionally sprayed. If you feel creative, you could go to a high gloss accent color, if not glossy white. You could also cover the cushions in a solid, durable fabric in one of your accent colors or a lighter neutral - possibly a brownish taupe (see below).
Other ways to lighten and brighten - if you can go to a glass table at some point, that'd help. In the meantime, I'd drape a light throw diagonally across the back of the sectional. I'd also consider changing out the brown drapes (? thought I saw brown fabric over the f.r. blinds) for lighter panels.
Yes, I would paint. Instead of white, I'd consider a light taupe with brown (not grey) tones to work with your brown sectional.
Your fabric will provide a guideline to make additional color selections to easily match/coordinate paint and tile colors or add'l fabrics.
Hope something's helpful, Nick. If you do some or all of these things, I believe you'd be in great shape until you can either change out your countertops or have your cabinets painted and/or refaced or door trim changed out.
Best of luck - let us know how it goes. It's only JMHO.
This message has been edited. Last edited by: BearCat49,
Oct 21, 2012, 11:11 AM
nick993
Thanks for the tips. I really want to take out the dated light and install recessed and pendent lighting. As for the backsplash, definitely looking at that. But I was curious if I were to do a backsplash, would it look better to start at the tile trim? Or remove the trim and start from the countertop? I would also like to add a stainless bar with hooks to go below the hood to get rid of the bowl full of spatulas. I
As for the clutter, we are in the midst of trying to figure out how to get it down to a minimum. There is a tall cabinet next to the right of the oven that we would like to convert to a pullout with racks for spices and other misc. items.
I really like the idea of recovering the bar stool pads with a red fabric. Probably a vinyl/leather. As for the fan I like having that too cool off in the summers after barbequing. What if I paint the blades red or find blades to match the cabinets for now?
Oct 21, 2012, 12:02 PM
metwo
I think your fan is fine, though I can't see it really well. We have a fan over our table and the dust does not fall in the food. I dont' think it could even happen if you never dusted; it would be flung beyond the table. Paint the fan only if you want to draw attention to it.
I realize that the flor. box fixtures are out of fashion right now. But using CFL bulbs is in fashion. Go figure! They are the same thing. What you want to do is make it disappear which is why I suggested painting it. Putting in recessed can be expensive.
Here is another consideration that is not in fashion.. use coated wallpaper as the backsplash. It is easy to clean and easy to replace when you change your mind or decor. And often you can find what you want on sale.
Oct 21, 2012, 06:17 PM
BearCat49
If you like the fan, all that matters, Nick. One thing I forgot to mention was that it feels a little large for that space. How about moving it to the family room (centered over there) to hopefully cool off the entire area? That would also allow you to coordinate the kitchen lighting. Incidentally, it's not the dust you see but what you don't, IMHO - plus, if it doesn't blow on your table, it's possibly in your prep/cooking zone.
WRT spraying the blades, you might get a little more bang for your buck by adding color in the f.r., if you moved it. Your red idea would be fine - if you want to call attention to it, as metwo mentioned. Would pass on matching the cabinets - IMHO, it'd be best to de-emphasize all the brown and wood tones. In the f.r., the color might help more by drawing the eye up to enlarge the total space. Or, go neutral, either white or light taupe or whatever color you paint the ceiling.
Also forgot to mention (was thinking about it) that I wouldn't suggest going to recessed lighting at this point in time, b/c of your budget. You can find tons of reasonably priced, updated light fixtures and may want to coordinate them, as previously mentioned. Don't know how long you plan to be in this home but in the future, you'll want to consider the cost of construction and any resale plans.
I would vote for the backsplash to add color over the stainless utensil strip. (Any chance you can reorganize a drawer by the stovetop for the utensils?) I'd pull off the 80's tile trim and redo it at the countertop level, if possible - verifying that it won't interfere with any future plans to replace your countertop. You'll need to do a small amount of patchwork but will want to smooth out the surface, anyway.
WRT your seat cushions, you can usually find faux leathers or vinyl on sale at fabric stores - or 40 - 50% off coupons. That'd make for easy clean-up and is usually a very simple project with high impact.
Good idea about converting the narrow cabinet to a pullout. One thing to consider in such a small kitchen: it's normal to lose storage space when installing some types of cabinet inserts. It might be o.k. with that type of cabinet but you'll want to compute any difference in storage area before making that change. (OTOH, they can be more efficient.)
Best of luck with any projects you decide to tackle. It's all JMHO, again.
This message has been edited. Last edited by: BearCat49,
Nov 15, 2012, 09:12 PM
Kitchen Designr
I've studied your kitchen for awhile now, letting it all soak in. Everyone has made some great suggestions and I would like to add mine.
Thinking about cheap ideas to update the kitchen....
New paint always creates a fresh look but it never lasts. Still part of the equation none the less.
Two main things you can do for lass than $1,500
#1. Refinish your cabinets for starters. Not restaining, that's a nightmare. I'm talking about a new paint job. There are plenty of professional refinishers who can turn boring into breathtaking in under 4 hours. $1,000 to $3,000
#2. New Countertops. I'm thinking a polished concrete colored to blend well with your floor.
You can do this yourself or hire it out. $500 to $1000
The fan can make a difference but it's not going to make your cabinets or countertop look any better because you moved it.
#3 This is just extra but looking into a backsplash with #1 & #2 I would take a full height backsplash from just left of your cook top to the right side of the pantry door. I'd use a thin natural stack stone, random pattern. I'd also cover every inch of the wall around your pantry door. I know this is an extra feature and would run you $400 to $800 in materials alone but dang, it would be incredible.
Apr 24, 2013, 11:04 PM
Becky42
bump
May 08, 2013, 08:10 AM
Creative Touch Carpentry
The countertops absolutely have to go. If it is in the budget and the cabinets are in good shape(they seem to be from the photos), refinish the cabinets. Get new, updated doors with hidden hinges.